As you will probably have realised already while visiting my website, one of the important aspect of my work is sharing, sharing beautiful moments graciously offered by Mother Nature.
Sharing this through photographs is one thing, but what about doing it all the way from the picture taking process? This is why I am very pleased to invite you to join me in my mountain photography workshops.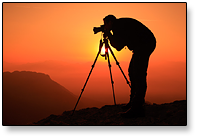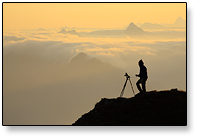 In my workshops, you will be able to :
have a great time in nature, in the magnificent mountains of the Swiss Alps, in my company and with others who share your passion
learn a very "practical" approach to landscape photography
learn how to use your most important piece of photographic kit (and which has no price): your eye
learn the different techniques that I use to take my own photographs (from start to finish)
benefit from a very individual teaching thanks to a small number of participants in each workshop
These workshops are conducted in a very friendly and relaxed atmosphere, the aim being that you all have a nice time while photographing breathtaking landscapes, and at the same time learning many things which, I hope, will help you in your own quest of capturing great pictures.
LENGTH AND LOCATION :
These workshops are one or several day long.
They all take place in the Swiss Alps and Jura mountains, in areas that I know well for having spent much time photographing them, and chosen for their beauty and photographic interest.
The several day workshops allow you to discover more remote places but also wilder, and be able to photograph them under the best lighting conditions.
WHO CAN ATTEND :
All workshops, without exceptions, are open to beginners as well as more advanced photographers. A small number of participant allows me to address the needs and questions of every one individually while still covering a broad range of photographic subjects. (refer to the detailed description of each workshop for more information).
CONTENT :
A wide range of photography subjects is covered, from composition to accurate exposition, controlling depth of field, techniques of panoramic photography, use of filters, post processing, and much more (refer to the detailed description of each workshop for more information).
According to the group's level and the needs of each participants, I develop further certain subjects. In other words I customise the workshops for you as needed.
I also naturally share with you all my little tricks and show you my way of working, the simplicity of which will probably surprise you!
FITNESS LEVEL :
A very good fitness level is required to be able to attend these workshops. Indeed, they do take place in the mountains and do include some reasonable amount of walking. Some of them take place at around 3000m of altitude and even more. Now that said, there is no need either to be an athlete!
Some of the workshops only require a few hours of easy walking with a limited amount of denivelation to ascend. On the other side, others are more demanding and a very good fitness level is required as the amount of walking per day can be up to 6 hours with several hundred meters of positive ascent.
It is therefore very important not to over-estimate yourself and I invite you to read carefully the detailed description of each workshop where you can find all the information on the exact fitness level required. And if you have any doubt, please do no hesitate to contact me for further information.
LANGUAGE :
The workshops are done in French.
If you wish to join one of the workshops but you don't master perfectly this language, no worries, I will be able to translate in English or Spanish if required.
1. REGISTRATION:
1.1. Each workshop contains some fair amount of mountain walking. It is therefore necessary to have a minimum fitness level to participate to these workshops. Is is very important to read the detailed description of each workshop which provides some indication of the exact fitness level required. By registering to a particular workshop, the participant confirms having read and understood this recommendation and therefore confirms having the required fitness level for that workshop. No refund will be provided if the day of the workshop a participant is not able to complete the workshop due to a lack of fitness.
1.2. People who are under 18 years old but above 13 years old can participate to any of the one day workshops, providing a signed parental authorisation.
1.3. People who are under 18 years old but above 13 years old can participate to the multi day workshops, providing that a parent also participates to the same workshop.
1.4. For safety reasons, children under the age of 14 cannot participate to any workshop.
1.5. Registration to one or more workshops is only confirmed and the place guaranteed, once the total amount due has been paid (refer to Section 2. PAYMENTS below).
1.6. Registering to a workshop implies that the participant is available for the main date as well as the backup date (refer to Section 6. WEATHER CONDITIONS / BACKUP DATES).
1.7. If the registration is done by a different person to the one taking part of the workshop, the person doing the registration agrees that the person who will take part accepts and respects the present Terms and Conditions.
1.8. After having received a participant registration, Samuel Bitton guarantees to immediately reserve the place for that participant in the chosen workshop. However, if within the 5 days that will follow the registration invoicing, Samuel Bitton has not received the full payment from the participant, the registration will be cancelled and Samuel Bitton will make the place available again to other participants.
2. PAYMENTS:
2.1. In order to confirm a place in a workshop, the total amount (unless mentionned otherwise in the workshop's description) is asked to be paid by the participant to Samuel Bitton at the time of registration.
Payments can be done via direct bank transfers, by credit cards, or via Paypal account.

All the necessary information to make the payment will be provided to the participant in an email sent by Samuel Bitton confirming the registration request.
3. PRICE:
3.1. The workshops prices are in Swiss Francs (CHF), all taxes included. VAT is not applicable for this type of service.
3.2. The price includes:
3.2.1. The photographic teaching by professional photographer Samuel Bitton.
3.2.2. A small notepad and paper for taking notes.
3.2.3. Certain, but not all, special means of transports (cable cars, chair lifts, trains, etc.) during the workshop. Please refer to each workshop's detailed description for further information.
3.2.4. Detailed comments and objective critics from Samuel on the pictures you realise during the workshop.
3.2.5. The breakfast (for one day workshops only).
3.2.6. A lot of fun!
3.3. The price excludes:
3.3.1. Any photographic equipment. Each participant must bring his own equipment. It will not be possible to hire any equipment from Samuel Bitton for the workshop.
3.3.2. Any other equipment required to participate, such as specialised clothing, walking boats, snow shoes, bivouac equipment, etc. Each participant must provide all his own equipment (refer to the detailed description of each workshop for the exact list of required material).
3.3.3. The meals (except the evening meals in mountain huts).
3.3.4. Any transports by car required during the day.
3.3.5. Any type of insurance (mountain rescue, cancellation, personal liability, etc.). Refer to Section 7. RESPONSIBILITIES AND INSURANCES below for further details.
4. CANCELLATION POLICY:
4.1. Cancellation from the participant:
4.1.1. Any cancellation received 20 days or more before the workshop date will be fully refunded.
4.1.2. Any cancellation received less than 20 days before the workshop date will not be refunded, except if the participant is able to propose another person to replace her/him and providing that this information is provided to Samuel Bitton no less than 3 days before the workshop date.
4.2. Cancellation from Samuel Bitton
4.2.1. In case of very bad weather forecast, the workshop may be postponed to the backup date. Samuel Bitton will inform all the participants via email or telephone at least one day before the workshop.
4.2.2. In case of very bad weather forecast also on the backup date, Samuel Bitton may be obliged to cancel the workshop completely. This is always very regrettable, but these are the unforgiving constrains of landscape photography in alpine environment.
4.2.3. If the workshop is postponed to the backup date and the participant cannot attend, no refund will be made.
4.2.4. In case not enough people are registered to the workshop, Samuel Bitton may decide to cancel the workshop at the last moment.
4.2.5. In the cancelation cases 4.2.2. or 4.2.4, all participants will receive a full refund.
4.2.6. Any costs incurred by the participants to be able to participate to the workshop (booking of hotel rooms on location, transports, train tickets, etc.) will not be refunded by Samuel Bitton.
4.2.7. Any type of bank fees incurred to proceed with a refund to a participant will be at the cost of the participant.
5. LATE ARRIVALS AND EARLY DEPARTURES:
5.1. No refund will be made for any workshop hours or days missed due to late arrivals or early departure by the participant.
5.2. It is very important that each participant arrives on time for the start of a workshop. Indeed any delay from a participant could compromise the possibility for the rest of the group to photograph the best lights. In case of a late arrival by a participant, it is her/his own responsibility to find, at her/his own costs, the group at the location where the workshop is taking place, without penalising the other participants nor disturbing the good course of the workshop.
5.3. In case of an early departure by a participant, she/he will bear all the costs that may result (transport, hotel room, etc.). If the departure is due to an illness or an accident, the participant will use her/his personal health, accident or mountain rescue insurance to which she/he will have subscribed prior to the workshop. Any participant leaving the workshop before its completion will not be able to receive any refund for the time missed.
6. WEATHER CONDITIONS / BACKUP DATES:
6.1. As mentioned above in Section 4. CANCELLATION POLICY, in case of very bad weather forecast a few days before the workshop (heavy rain, storm, strong wind, etc...) the workshop is, in a first instance, postponed to the backup date mentioned in each workshop's description.
6.2. If the workshop is postponed to the backup date and a few days before the weather forecast is very bad, the workshop is then cancelled completely for obvious safety reasons.
6.3. Weather forecast is not an exact science, especially in the mountains. It is therefore not impossible that a workshop take place but that the weather conditions end up not being ideal for photography. Although Samuel Bitton makes sure to organise workshops in locations offering spectacular and very photogenic views, he obviously has no control over the weather conditions of the moment and therefore those views might not be fully visible due to clouds, mist, haze or the like. In such cases, this being entirely out of his control, he provides no discounts or refund to the workshop's participants.
6.4. According to the weather conditions during the workshops, Samuel Bitton reserves himself the right to modify slightly their content. However this will always be done in such a way that it will have a minimal impact on the photographic teaching.
7. RESPONSIBILITIES AND INSURANCES:
7.1. Participants Responsibilities:
7.1.1. All participants to the workshops should be aware that by taking part in a workshop they can run certain risks related to travel, transportation, outdoor activities, eventual remoteness of medical facilities, etc. They must therefore, bear all risks they may be involved with (injuries, property damage, death, medical expenses, repatriation expenses, transportation costs for abandonment of the workshop, economic losses, etc.), and hereby release Samuel Bitton and not hold him responsible for any and all liability, actions, causes of actions, debts, claims, and demands of every kind and nature in connection with their participation in any workshop arranged by Samuel Bitton. The terms hereof shall serve as a release and assumption of all risk for the participant, her/his heirs, executors and administrators, and for all members of the client's family.
7.1.2. All workshop participants must be in possession of a valid insurance to cover risks related to illness, accident and an eventual repatriation. This insurance must be valid for the location and time where and when the workshop is to be held.
7.1.3. When booking a workshop, all participants automatically agree to have read, understood and accepted these Terms and Conditions, which constitute a binding contract between Samuel Bitton and the participant. Also, the participant agrees to have reviewed the information given by Samuel Bitton concerning the particular workshop, have correctly prepared herself/himself and arrives at the meeting point of the workshop with the necessary equipment indicated in the workshop description available on his website. Samuel Bitton will not take any responsibility of participants inadequately prepared physically and/or equipment-wise.
7.1.4. All workshop participants are financially liable for property and personal damage, even accidental, caused to third persons or property, including those owned by Samuel Bitton. The participants are strongly advised to make provisions for these eventual events by concluding a personal liability insurance (or similar).
7.1.5. Samuel Bitton cannot be responsible for any theft, accident or loss that may occur during the course of a workshop.
7.1.6. Participation to a workshop is done at the participant's own risks. The price of the workshop does not include any mountain guiding from Samuel Bitton and therefore the participant accepts to attend under her/his sole responsibility. Each participant is responsible for herself/himself and her/his own material and equipment. When necessary, Samuel Bitton hires the services of a mountain guide.
7.2. Samuel Bitton's Responsibilities:
7.2.1. Samuel Bitton is responsible for doing his best to guarantee that a workshop takes place as expected according to the information given in the workshop's detailed description, and to maximize the learning and travel experience of the participants.
7.2.2. Samuel Bitton will not bear any responsibility for services that are beyond his control, such as lifts, huts, mountain cabins, hotels, restaurants, airlines and transportation companies.
7.2.3. Under any circumstance Samuel Bitton will be liable for additional costs, loss, damage or personal injury, death, economic losses and delays caused by third party agencies or companies, if not directly related to negligence from Samuel Bitton himself.
7.2.4. Samuel Bitton cannot be held responsible for incidents or events unforeseeable and external to Samuel Bitton during the workshop such as war, political unrest, strikes, incidents caused by terrorist activity, natural or nuclear accidents, evacuations, maintenance problems of means of transportation, schedule changes, fires, technical problems beyond the control of Samuel Bitton, airspace congestion, bad weather, safety measures, failure, etc. causing delays and/or changes in itinerary, for which the participant will bear any additional costs associated with such events but not those relating to the provision of the original contractual benefits or agreed to replace them.
7.2.5. Samuel Bitton cannot be held responsible for any personal injury which would result from careless personal initiative during the workshop, not in accordance with advice from the photographer.
7.2.6. Samuel Bitton bears no liability for any loss, damage or theft of luggage, clothing, photographic equipment or personal items of his workshop participants, which should remain under supervision of the participants themselves for the duration of the workshop.
8. CONFIDENTIALITY:
8.1. Samuel Bitton agrees to comply with current legislations regarding confidentiality and protection of personal data and not to dispose, in any form or condition, such information to third parties.
8.2. Samuel Bitton also agrees to implement the necessary security measures to ensure the protection of users' personal data against possible misuse or against unauthorized access.
9. APPLICABLE RIGHTS:
9.1. The present Terms and Conditions are governed by Swiss law.